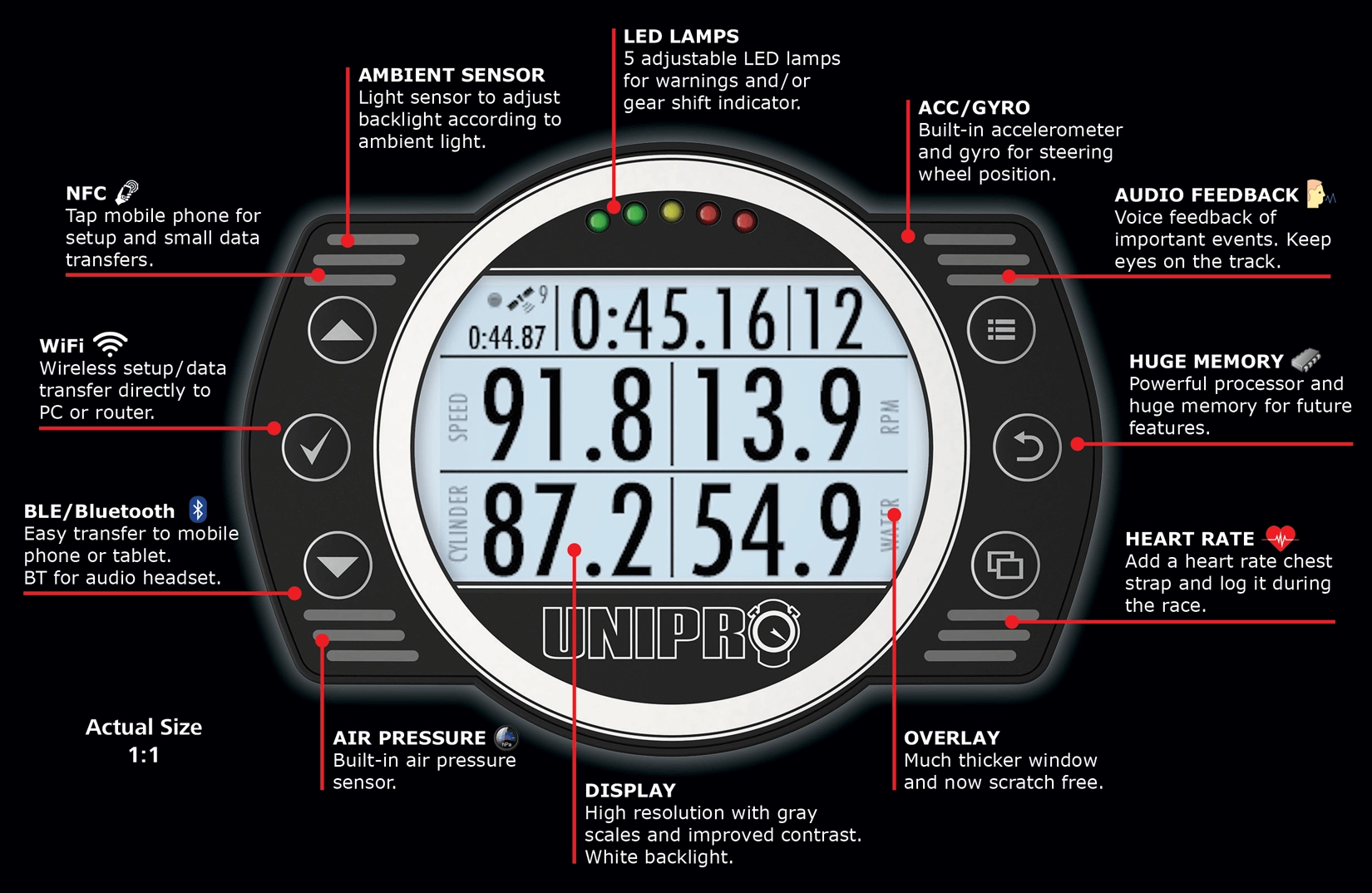 Laptimer and datalogger for karting – UniGo 7006
The UniGo 7006 is the optimal laptimer and datalogger for karting
It has all the features needed by professional kart drivers and teams. The features includes:
Ground breaking built-in GPS reciever with 100 Hz updates and 3-axis of accelerometer, gyroscope and magnetometer, which enables 3D tracking of the gokart.
All relevant communication channels: WiFi (as client for teams or access point for drivers), Bluetooth, BLE, CAN, NFC, USB cable or USB flash key. Very fast transfer speed.
Connect sensors directly: Flexible inpust lets you connect 2 temparatures, RPM, trigger, analog, digital, speed, Lambda, IR Box or BLE sensors (f.ex. heart rate sensor).
Many built-in sensors: Air pressure, humidity, steering wheel position, battery voltage, light sensor, enviroment temperature and time.
Huge memory with 4 GB space for datalogging with up to 60 Hz. Ready for free firmware updates.
Advanced graphic display with high resolution and 16 gray tones, adjustable backlight and extra thick protection glass.
MyLaps X2 Link ready: Get your own race position, gap to leader and driver in front of you and official lap time (only in races using MyLaps Link).
Free advanced analysing software for Windows and Mac.
The UniGo 7006 sets new barriers for what to expect of a laptimer and datalogger for karting!
Find your nearest dealer here or buy it directly here in our webshop.